Language trips ready for takeoff in 2024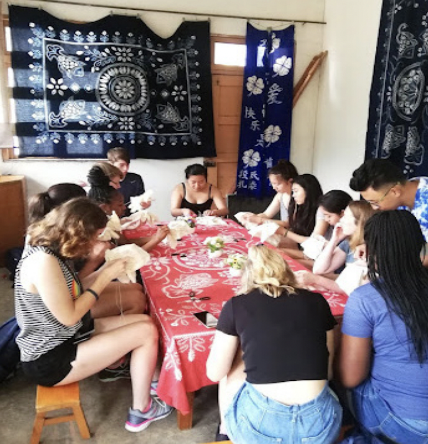 After three years of absence, international trips might make a return to Greenhills culture in 2024, head of upper school Deano Smith said. Language teachers and students are excited to be able to open up this opportunity again.
"There are a lot of people thinking about these trips and it's something that I support," said Head of Upper School Deano Smith. "I want to make sure we have a framework in place so that we can talk to the faculty next August with a plan for how Greenhills will do international trips."
One of the biggest challenges the administration is facing is how to make the cost of these trips equitable. 
"Already, people are paying for tuition at Greenhills and a large fraction of our population are on tuition assistance of some sort," says Smith, "If we have a trip that's going to cost $3000, I want to make sure we aren't cutting someone out because they're not in a socioeconomic status where they can drop three grand on a trip."
Planning these trips is not easy. There are many factors that go into making it happen and many teachers start planning months, even a year, in advance.
"There are a lot of logistics, like getting visas approved, and the flights to China are costly, so we would need to wait until it is reasonable to go," said Chinese teacher Hsiu-Chao Chang.
There is preparation that goes on behind the scenes that students do not see. 
"Everything from figuring out where you're going, where you're staying, and then meetings with students and talking about policies like whether they can use their phone or not," said Spanish teacher Jenniffer Gray. "There are so many things that go into it and it takes a lot of time."
Travel agencies and companies are almost always the roots of how these trips are organized. 
"They are always willing to give different kinds of help, getting the trip publicized, getting it started, meeting with parents and students who might be interested, and then moving forward from there," said Modern and Classical Languages Dept. Chair Jeff Allen. 
No trip is the same, each experience depends on the language and the respective teachers, as well as the circumstances during the time of planning. 
"I have been here for quite a while and these trips have evolved over time and gone through various phases. In the pre-COVID world, it was still evolving and yet all languages were doing trips at some point," said Allen. "We try to keep freedom realizing it is quite an ask of any given teacher to do that, yet at the same time it seems to have been an excellent experience for the people who could experience it."
With all the hard work that goes into arranging these trips, teachers still find the outcome worthwhile. 
"When I talk about trips, I think about the experiences for students to immerse themselves, whether that being language and culture or anything that connects the classroom learning what they're doing and the outside world," said Gray. 
More benefits than disadvantages come out of these visits for students which is why Chang is pushing for them to come back. 
"Students can use the skills that they have learned and it offers an emergence of a completely Chinese culture and language that is a really big impact on the students," said Chang, "It's very hard to imagine this environment and it helps to motivate the students to come home and study the language harder."
Students also share the same desire as teachers for language trips to make a comeback. 
"I feel like I'm learning a lot in my Spanish class and I want to be able to do something with the content that I am learning," said Meera Tewari '25. "We're already learning about the Spanish culture and I'd like to actually experience and see it."
In the past, Latin students have traveled to Italy, Greece, and Turkey which have offered more than just the language itself. 
"Even though Latin is a dead language, there is a lot of history behind it, and being able to get to go somewhere more far off, like Italy, would be really neat," said Avi Weiss '24.