Looking back: The origins of Spirit Weeks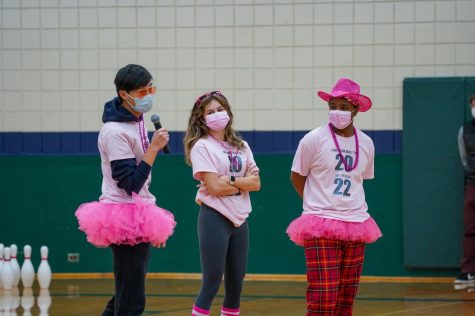 It's a Monday morning, and the gym is full. The seniors run in, passing hundreds of masked students, white and blue and yellow, 6th graders to juniors, taking their place at the end of the gym to the sound of pounding feet and the occasional clang of a cowbell. In a pink flood of tutus, capes and beaded necklaces, they usher in the start of another Spirit Week.
"The credit goes to Emily Presley '03 (…) and the faculty sponsor Michael Powers," said 
English Teacher Mark Randolph, when asked about the origin of Spirit Week. "Emily was one of those people who had tremendous energy for building community. She was really creative and a ton of fun." 
Presley introduced the idea of class competitions to the student body, which caught on quickly, but eventually brought challenges of its own, causing Spirit Week to gain its detractors among faculty, and certain responsibilities, including planning and cleaning any mess the festivities left behind, to move into the students' hands for a few years. 
"There was an unfortunate decision to include a milk chugging contest, which had a very unhappy conclusion," said Randolph.  
An unhappy conclusion involving a gallon of milk and projectile vomit. 
The incident raised concern among faculty and staff surrounding the appropriateness of Spirit Week, a sentiment that still exists today. 
"Last year, we had a small meeting with some school administrators who said they really enjoyed the toned down, less competitive version of Spirit Week," said Student Council President Ryan Wang '22.
Last year, Spirit Week was mostly online. A small number of people were allowed into the theater, in rotating groups, to watch any in-person events, such as Walk-Off and Battle of the Bands, and the rest of the school watched a broadcasted video of the stage, resulting in a subdued and quieter version of Spirit Week. 
"That's not the point of Spirit Week. The point is for us to be loud … to be excited … Let us have this week of absolute fun," said Wang. 
Randolph shares a similar mindset with Wang.
"The faculty at the time felt that Spirit Week was not going to be a good fit with Greenhills. I remember saying, 'I just think you need someone who has experience running games.' And [History teacher] Mr. Zellers said, in his classic way, 'Why would you row towards the Titanic?'" said Randolph. "Great Zellers quote."
With a newly bolstered faculty backing him, Randolph crowned himself  "Spirit Week Tsar" and set off to make modifications to Spirit Week, introducing some of the most recognizable features of the week. He worked alongside several students, such as Anna Grotberg '04, who in many ways was Presley's predecessor. 
"She [Grotberg] and I both loved Zoolander," said Randolph. 
In the film, two models attempt to settle a dispute by conducting a Walk-Off. David Bowie, the judge of the competition, explains the rules, "First model walks; second model duplicates, then elaborates," launching the start of a montage where each model attempts to out-runway the other, Michael Jackson's "Beat It" playing in the background. 
Inspired by the film, Grotberg and Randolph overturned the cubbies in the tenth grade forum, and pushed them together, creating a makeshift runway on which to host their very own Walk-Off, marking the official start of what would grow to become a boisterous dance competition between grades, and a mainstay in Spirit Week, and Greenhills, custom.
"Walk-Off was not all that special until Adam Plunkett '05, Will Rhoden '05, Larry McMahon '05, and a couple of others, dressed and danced as the Spice Girls. Then, it took off from there," said Randolph.
Along with Walk-Off, many other smaller events contributed to making Spirit Week even bigger and more substantial. Drawing inspiration from Saline High School, who in turn drew inspiration from the University of Michigan's athletic program, Randolph established Mock Rocks. He adjusted the original idea, which had students perform their song onstage, so that students could videotape their music videos. Increasing the number of students involved in Spirit week, those who were interested in film and cinematography. Each year there would be a genre of music, such as glam rock, country, or punk rock, from which students would pick songs. Today, Mock Rocks are done in a similar fashion, Student Council announces an artist (this year's was Taylor Swift), and each grade is assigned a song. 
Randolph, an avid fan of Guitar Hero, also brought his set into school. And on one memorable occasion, he got into a bit of trouble for disturbing students who were taking a test next door. This evolved into the Mario Kart competitions. 
"When I came back [to Greenhills], part of Spirit Week was a class competition with Mario Kart, which blew my mind. I couldn't believe I was in the theater watching the whole school on their feet as some kids were controlling it [the game] on the big screen," said Head of School Peter Fayroian. 
Fayroian remarks on the easy camaraderie he witnessed in the Greenhills community during Spirit week. 
"In a class, you have artists, you have athletes, kids who identify as academics, but regardless of whatever niche you occupy in your class, you're all together, wearing the same color, sitting in the stands together (…)We can institutionalize moments of pure joy," said Fayroian. 
The official start of Spirit Week is the assembly on Monday morning. The school congregates in the gym, each grade sitting in their section of the bleachers, wearing their designated color. The grades used to be allocated colors by picking dyed easter eggs from a basket prepared by Randolph. But year after year, the seniors would cheat for pink, until Randolph caved and they were officially assigned the color, establishing the color hierarchy Spirit Week employs today: freshmen wear green, sophomores purple, juniors yellow, and seniors, the infamous pink.
"I remember seeing how it was in middle school, especially that opening color day, it was absolutely insane, people were really loud and noisy, I thought it was absolutely great," said Wang, "I think [for] a lot of the traditions, the rowdiness and hype has been kind of lost in the past two years."
The responsibility of managing Spirit Week has since passed onto Student Council, and last year's president Finn Feldeisen '21 had the enormous task of staying true to the tradition of Spirit Week, while obeying COVID-19 guidelines.
"My philosophy is trying to restore Spirit Week to its former glory… It's a cornerstone in what we do…We're going all out, and we should," said Wang. Which, for him, means allowing students to be rowdy and excited, cheer loudly for their grade in the obstacle course, participate in events, and build community. 
"We haven't been able to do these things, traditions, and it is a tradition [Spirit Week] . . . it is this bringing together, this shared collective sense of belonging," said Fayroian. 
The pandemic has barred us from celebrating community, from participating in tradition. The 8th graders now were 6th graders in March 2020, and that's an entire middle school who has never heard the pounding of feet on bleachers when the seniors run into the gym flamboyant in pink; never seen the forums converted into jungles, oceans, different seasons, the Old West, or Star Wars' Death Star; never sat in the dark theater with the the stage lights casting each grade's band in yellow light or seen a crowd of people rush onto stage to dance and jump together during Walk-Off. 
"I don't think there's any better feeling in the world than to experience the feeling of absolute belonging, purpose and importance in your class at Greenhills. You run out on that stage and chant your year as loud as you can. I can't imagine a better feeling in the world than that moment when everybody wants you to be there with them, and you get to say who you guys are. I just never get tired of that," said Randolph. 
Another four years without Spirit Week, and no student at Greenhills will have felt the feelings Randolph talks about. 
"Traditions come and go, sometimes naturally and organically, and the ones you maintain are the ones that have value. You realize something has value if there is an opportunity for it to disappear, and if nobody clamors about it, or nobody misses it, then it wasn't really worth having," said Fayroian.
Spirit Week is about clamor and about belonging. If it disappeared, we would miss it, so it is our responsibility to keep it from disappearing. Let's keep the gym full on Monday morning, students crowding in the bleachers, waiting for that pink flood to usher in the start of our one week of uncontained joy, competitiveness and camaraderie. 
"Spirit week is bringing together each class, but at the end of the day if you look at all the combined efforts of people, you have to say, it [Greenhills] is an extraordinary school. That's when we're at our best," said Randolph.