Money doesn't grow on evergreens
Funding comes from different sources to cultivate community
Picture it. A student is sitting in class at a new triangular desk, and they wonder, did their math teacher order it? Did their French teacher purchase these for more productive conversations? How does the school acquire all the many things one takes for granted? One might be apt to jump to the conclusion that tuition dollars cover those costs. However, that new furniture does not come from tuition, but yet another fund.  
There are 682 total students across the school grades 6-12. Averaging both middle and upper school tuition rates (not accounting for the students and families that have tuition plans in place) Greenhills, on average, brings in $19.5 million per school year. 
However, Greenhills doesn't solely rely on tuition to keep it running, with money coming in from fundraising and endowments. Displayed on the wall on the way to the seventh-grade forum there is a poster with a list of names running down the page. These donors play a small but critical role in enhancing the Greenhills experience. To further support its funding needs, the school relies on an annual fund. Greenhills uses a multi-faceted approach to finances to keep the school operational and thriving. 
"An annual fund is a way to raise money that can be used in unrestricted ways to meet our funding needs," said Director of Advancement Paul Gargaro. "For the last 20 or so years, we have been more intentional about starting and ending the annual fund on specific dates, as well as raising awareness about annual giving through alumni and parents."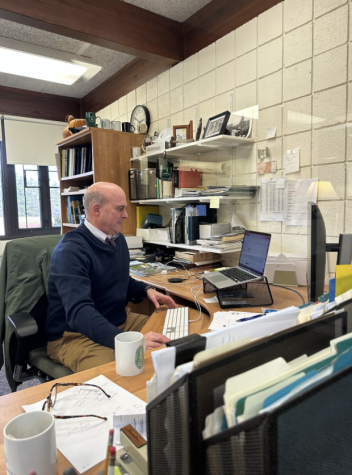 Greenhills aims to fundraise up to around $500,000 each year through the annual fund. This money is not put into endowments but instead is used to fulfill the needs of the school. The annual fund plays a critical role in taking pressure off tuition as the sole beneficiary of the school. 
"If the budget is a bucket of water, the annual fund is a shot glass of dye," said chief financial officer John Nickel. "When you pour it in, the dye gets diluted throughout the entirety of the bucket. The great thing about this is that it's not directed towards a specific need, its overall operations which include salaries, electric bills, general maintenance, really all the odds and ends." 
However, it was not always like this. The school in previous years would have to look to other efforts since the alumni pool was not as large. This resulted in asking for a certain amount of money to be donated to the school along with the tuition costs. 
"Back in the early days, annual giving was set along with tuition rates. There would be a strongly suggested amount that was expected from parents along with tuition in order to account for the annual giving" said Nickel.
Since then, Greenhills has reworked the system in order to optimize the amount of money that is donated. Nonprofits have the ability to write off charitable contributions in tax forms. However, the donations that they receive have the potential to be taxed by the person doing the donating. 
"With Greenhills being a nonprofit organization, any money that's donated has the potential, depending on the donor's tax status, to be tax-deductible," said Gargaro. "It depends on the donor's situation, and many private schools operate this way."
Nevertheless, Greenhills is able to find funding in other ways besides donations. Endowments are a great way to raise funds for specific targeted events or processes. The cafeteria, library, and new athletic facility are all products of endowment funds that have been growing over time. 
"Endowments, as they grow in scale, become very powerful," said Gargaro. "An endowment is a fund that is invested, and you can only take a certain percentage over and above that initial investment."
This growth is pivotal, as endowments allow schools to have a consistent source of funding for their operations, regardless of changes in the market. Endowments also provide a sense of stability and security, as the initial investment remains intact, and only the returns are used for spending.
"For example, if you have a $10,000 financial aid endowment, it's invested within the marketplace and at the end of each fiscal year, that endowment (you hope) has made a return," said Gargaro. "Its return on the market, plus 10 percent. The endowment is now worth $11,000 and as a school has the ability to spend 4.5 percent of that $11,000, the balance of that return gets re-invested in the endowment, in order to prepare for the next year. It continues to grow over time." 
Endowments are crucial to the advancement of many projects that they do, and bridging the gap of knowledge between students and the school is to buil key to building a strong future alumni group. 
"Learning about all the ways that the school is able to use the annual fund and its endowments to first-hand benefit us the students is enlightening," said Michael Zheng '24. "For example, providing all the extra teaching supplies during the pandemic was something that I hadn't really thought about before."