Diversity done differently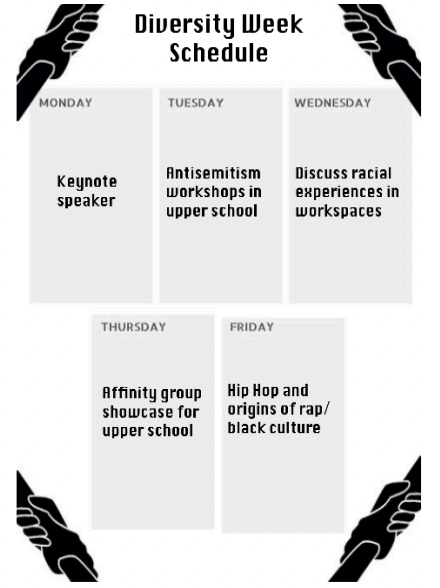 In today's age, the importance of diversity and inclusivity are much more well understood. In the midst of Black History Month, Greenhills is showing support for fellow African Americans however, the school also wants it to be known that all groups are supported at all times and not just during specific months.
"We don't think about [Black history] just during February," said director of Diversity, Equity, and Inclusion, Nadine Hall. "From the perspective of the office of the DEI, we are really working on finding ways to amplify all voices, while putting an emphasis on those who are most marginalized here at the school."
The office of the DEI isn't the only place where diversity is being taught however. Librarian Stefanie Halliday brings awareness to students by creating a display of books.
"Oftentimes I will do displays to call attention to different subjects, voices, or even different genres," said Halliday. "During Black history month, I like to highlight black authors and books that have black characters just as a way of celebrating all the different things we have in the library that are written by and about black authors."
Throughout various classrooms in the school, teachers are making it a point to teach their students about such topics. With the 9th grade class having the theme of community, diversity is an important talking point.
"[The freshmen grade] weaves in these topics throughout the year rather than focusing them on specific months," said Freshman grade dean Liza Ruggiero. "We reinforce at the beginning of the year that the freshmen get to choose what community they want to build." 
The 9th graders are not just learning about diversity in grade meetings, but also in their Fresh classes.
"Our current unit in Fresh is about embracing identity, so we talk about all sorts of different identities such as sexuality and LGBTQ+ topics," said Ruggiero. "We talk about race pretty consistently throughout the year to help students explore their own identities."
Fresh is not the only class where students are learning about diversity. Spanning from the humanities to STEM departments, students are taught about the topic. 
"In Financial Applications, we have a unit where students are given the opportunity to explore a person of color and their financial background," said math teacher Eric Gajar. "The people chosen range from Beyoncé to persons of color who opened banks."
The classroom isn't the only place where marginalized groups are supported by the school. Greenhills offers a wide variety of affinity groups that allow students to come together and talk about their experiences. These meetings allow students to share their cultures, whether it be a single one or multiple, with fellow students from all levels of high school. 
"It is so important that we are able to celebrate our culture," said Hispanic and Latinx Organization leader Lucas Nor '24. "It gives me pride that we can share the beauty of our ethnic identity together in a safe environment."
The school offers a wide range of affinity groups so that students can find a place to fit in no matter who they identify with. 
"My affinity group gives me a space to feel safe and heard," said Black Student Alliance member Mikayla Eccelston '25. "I can speak my mind without any worries and it's great to be able to share my experiences with other people here at Greenhills."
Chakor Sankaran Rajendra '23 shared a similar feeling about affinity groups at Greenhills when talking about the South Asian Affinity Network.
"SAAN gives me the opportunity to express my cultural identity in a space where I feel safe," said Rajendra. "We even have two performances coming up in order to show others our culture."
Not only do affinity groups allow people to share their culture within a safe environment, but it also allows people to connect with others.
"I love the fact that we have affinity groups at Greenhills," said East Asian and Pacific American Community member Sophie Chen '25. "Not only does it allow me to share my culture, It also lets me get to know people who I probably wouldn't have talked to outside of that space."
Greenhills doesn't just offer affinity groups for specific races, but also those for people who identify as multicultural.
"It can feel awkward to be multicultural because you don't know where you fit in sometimes," said Multicultural Affinity Program leader Ava Englesbe '24. "Being able to be with others who shared the same feelings as me made it easier to figure out my identity."
Although work can still be done in regards to diversity, Greenhills is on the right track and will continue to progress as needed.
"I put out something for the middle schoolers every single month. It spans from Black History, Pride, Hispanic Heritage Month, and so on. I think we're still in a place where we're not there yet," said Hall. "The history of marginalized communities is not as incorporated as fully as it should be in American history. That's the goal. The goal is to get to a place where we don't need it [Black history month] to highlight it."