Equestrians trot through highs, lows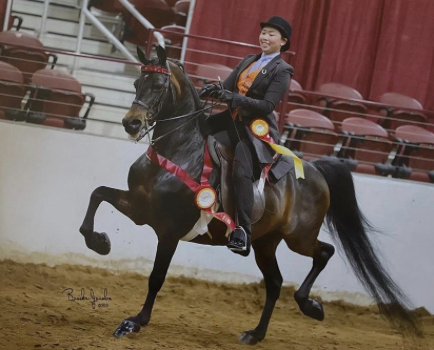 Equestrian was once a sport offered by the athletic department. Though today, it no longer exists for the Gryphons, the community is still full of riders that dedicate their lives to building lifelong connections with horses. 
Charlotte Jordan '24 has been riding since her early childhood.
 "I started in first grade because my friend was doing it, and she asked me to do it with her," said Jordan. 
Ella Kim '24 got into the sport due to their love of animals. 
"I've always loved animals, especially horses, so when my mom found a horse riding camp nearby, she signed me up and from there I fell in love with it." 
Both students practice and do shows outside of school, but it is a very different situation for Jordan who recently returned 
to the country from Europe after four years living there. 
"I practice once a week, but I don't have a place here yet since I just moved here, but before, it was just at a local stable," said Jordan. "I didn't do shows for a while because I was in the Netherlands, but usually, they don't take much time away from school because they're on weekends. Unless they're big shows, but I haven't done those yet."
Kim has a different practice schedule.
 "I have two group practice rides, one private ride, and one conditioning practice weekly. So, just about four rides a week consistently. I'm also a working student and instructor so sometimes I'll ride just for fun or to exercise the horse," said Kim. "I just got back from my last A rated show for the season."
Jordan does have some future plans and ambitions for riding after leaving high school. 
"I'd like to keep riding after I leave high school, for the rest of my life," said Jordan. "Not as a career, but more of a hobby."
Kim has similar aspirations about their future in the sport. 
"I don't think I could live without riding. I took a short break from it when I was younger, but there was no way that I could stay away from it."
Riders not only share passion for just riding, they also love working with the horses. 
"My favorite part of horse riding is hanging out with the horses," said Sairose Walsh '25, who has been horseback riding since her early childhood. 
Walsh placed top in her division last season. She competed in events like hunters and jumpers. 
"What makes horse riding special to me is having a partner," said Walsh. "It's not necessarily a team, but you have to find a connection with the horse."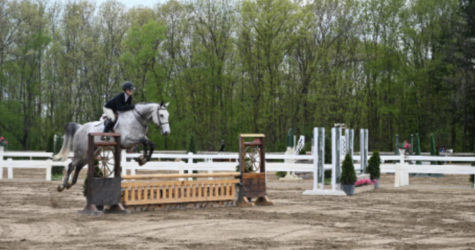 Indeed, equestrian riding is more than just hopping up on the back of a horse and taking the reins, it is forming real connections with an animal for a lifetime. 
"It's not just a sport. It's a lifestyle," said Kim. "It's mental and physical work, but you also have to take into account that your teammate is a 1000 pound animal and your only means of communication with them is essentially your body."   
This is what makes horse riding unique. It allows for a bond to form between the rider and the horse in which  they rely on and trust one another. 
"There's really no other sport where you can do that," said Kim. "It's creating a silent bond and being able to communicate without words, which is really incredible to me."
 Horseback riding isn't a trend – it has been around for thousands of years. Some faculty members also grew up as equestrians. Arts teacher Nicole Burroghs is a known rider. 
"I have done horse-riding for roughly 25 years now," said Burroughs. "Riding is something that forces you to go out of your own headspace, unlike other sports or athletics activities." 
Whenever Burroughs is riding, she is actively communicating with the horse, which hinders her from thinking about any other problems or situations. For Burroughs, being an equestrian is an escape from reality, as it forces her to live in the present. 
"If I am running, I can still be thinking about things that are stressing me out," said Burroughs. "On a horse, you cannot think about anything else." 
Horseback-riding – dressage, in particular – for Burroughs, presents opportunities and challenges that require time, commitment, and energy. As a bonus, Burroughs gets to bond with each horse that she rides. 
"My first horse's name was RZ," said Burroughs. "His full name is Restless Zenith. Thoroughbreds like RZ have weird names on race tracks." 
Today, Burroughs owns Chip, and continues to spend time with him. 
Another faculty member –  social science teacher Kate Vane – has also been riding for more than 20 years.
"I have been riding since I was nine, but stopped in college and early in my career because horse riding is very expensive," said Vane. "It takes a lot to be able to have a horse and ride it regularly." 
Vane has owned her last horse Louise for about ten years now. Up until last year, she frequently brought him to competitions and showed him around. 
"I used to ride him six days a week. Even when I didn't, I went out to the barn a lot to feed him, care for him, and make sure he was on his best behavior" said Vane. "It's harder to do that with a family now." 
 The hope is to be able to return to that at some point. For Vane, there is no connection other than being able to clear her mind after school with Louise in the countryside. 
"You can't take out your anger on horses, so you are forced to center yourself," said Vane. "Overtime, you develop a cool, invisible language with them." 
Horse riding, above all, has pushed Vane to be attuned to the unpredictability of life.   
"Your horse could be amazing and going strong one day, and the next, they're three-legged at length," said Vane. "You can have all the plans in the world – train them, condition them, prepare yourself for a show – and the day before a show, they break themselves. Horses are like bicycles that can injure themselves." 
Through all the smiles, falls, and injuries, riding a horse isn't a commitment to perfection, but one to evolving. There are no instant results in horse riding. It's all about patience and progress.  
"Riders all share the same mentality: there are really high highs, and really low lows, and lots of hard work in between.