The growing queue-(cumber) to play Pickleball
There may be disagreements about where the name comes from or speculation about its unusual play style, but there is no doubt that Pickleball is one of the fastest-growing sports in the world and among Greenhills faculty.
Founded in 1985 on Bainbridge Island, Washington by three middle-aged fathers, Pickleball is a cross between tennis, ping-pong, and badminton played with a plywood paddle and a perforated plastic ball.
When it comes to where the name "Pickleball" comes from, the truth becomes a little unclear. Some say it derives from the founder's dog, Pickles, who would always run away with the ball in his mouth. While others believe the name is a reference to Pickle Boats—the boat in a race that is composed of leftover crews from other teams—quite similar to how the game is a patchwork of various sports combined into one.
The basic aim of pickleball, like any other racquet sport, is to hit the ball over the net and prevent the opponent from hitting it back.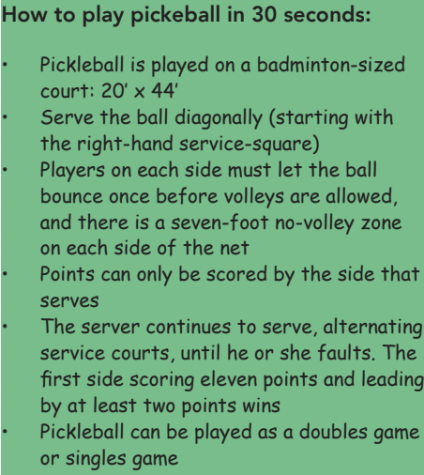 It can be played in singles or doubles, indoors or out on a court that is roughly the size of a badminton court or half of a tennis court. Players serve underhand, crosscourt, and may only win points when they are serving—if you lose a service point, then the other team begins serving. A set lasts until a team reaches 11 points, with a two-point cushion, similar to tennis.
Within the point, there is a non-volley zone on either side of the net, that is distinctly dubbed 'the kitchen'.
Pickleball rose to national prominence through the COVID pandemic as it offered a safe, socially distanced sport, but was popularized by all ages for its moderate amount of exercise from less court to cover and slower pace than the likes of tennis. 
Pickleball is generally associated with older players due to its smaller court and slower pace of play compared to other sports. However, data reveals that this is not the case. According to the Sports & Fitness Industry Association (SFIA), roughly 40 percent of pickleball players are under the age of 35. 
Since 2018, the number of players has more than doubled and there are an estimated 4.8 million players nationwide. 
Greenhills has experienced Pickleball Fever, as several teachers have even begun to play the sport, including history teacher and college counseling associate Lili Kadets
"It was all the rage, and I was curious to see why so many people were so excited about it," said Kadets. "I don't play very often, I have been playing with family members, which has been really nice."
An aspect that drew Kadets to the sport is the laid-back nature of the activity.
"On a day when you don't want to do a very intense type of workout, it's a nice way to be outside and still move around a bit, without feeling exhausted afterward," said Kadets.
The city of Ann Arbor has felt the growing popularity of Pickleball, with Pickleball lines painted on tennis courts at parks and recreation centers around town. People can bring their own portable nets to the courts and are able to play the sport in their free time.
For more competitive players, Wolverine Pickleball, opened a facility just west of Ann Arbor that will offer year-round professional-grade Pickleball. They are making plans to build a 37,250-square-foot facility that will offer additional Pickleball courts.
Outside of Ann Arbor in Chelsea, in the theater rather than the court, Emmy and Golden Globe-winning actor Jeff Daniels premiered a play titled 'Pickleball' on Sept. 30 that will run until Dec. 17 in Daniels' theater. The play is described on its website as: "A wild comedy about America's fastest growing sport, four below average players must overcome their own limitations in order to achieve greatness in a game that has nothing to do with pickles."
Daniel's notable roles include Harry Dunne in Dumber and Dumber. Daniels' most recent role was starring as Atticus Finch in To Kill a Mockingbird on Broadway from 2018-19 and then reprising his role when Broadway re-opened in 2021.
Greenhills' official racquet sport, tennis, captured the Division Three state championship title in two of the last four years with the mens varsity team, and the womens team captured the championship in the most recent season.
"I think it [pickleball] is great because it's cross-generational—you get young kids out there with their grandparents," said tennis coach Eric Gajar. "The sport's been growing like crazy, it's really taken off, or taken over a little bit."
However, Gajar is quick to point out that not everybody in the tennis community is as accepting of this new pastime (and its similarities to tennis).
"There are some purists in the tennis world who are like, 'No! Keep that thing away from me!', but I like it because it gets more people out on the courts," said Gajar. "Of course, I would prefer it if they would eventually move from pickleball to tennis or do both."
There lie some practical differences between the layouts of pickleball and tennis courts, as pickleball courts require different, smaller boundaries to play on. This difference increases tension among tennis and pickleball players.
"What people don't like is that they [pickleball players] are painting over tennis courts with pickleball lines," said Gajar. "What people would prefer is if they set separate facilities aside- if you go to a place where they have both [lines] it's very confusing. People will always play on the courts without the pickleball lines if given the choice."
Mark Randolph, assistant tennis coach, also sees the positive side of the sport, but is torn about its successes coming at the expense of tennis.
"People having fun in an athletic endeavor is a great thing, what I think is sad is that tennis courts are sacrificed for Pickleball courts around town. Folks tend to stay a lot longer than tennis players," said Randolph. "The public rule was that if there are people waiting [to play], then you play for an hour or one set, but then you let the other people play—because Pickleball requires less movement, people can stay out there forever." 
Randolph's solution is for the city to make Pickleball courts separate from tennis courts, similar to what they did with skate parks in the past, so tennis and Pickleball can coexist seamlessly in the sporting world
"It's not very hard for me to adjust [to pickleball], like racquetball to tennis- that's a very big adjustment, but pickleball? Not so much," said Gajar.