The alumni bunch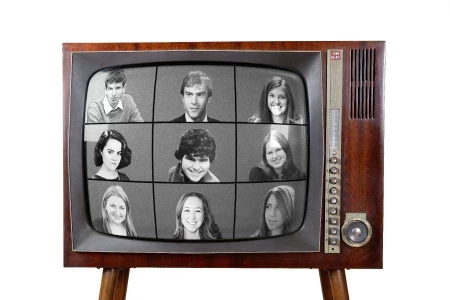 Caroline Huntoon '02
"Early on I was an everything kid like I think most kids at Greenhills are," said English teacher Caroline Huntoon '02, who added that they focused on theater later on.
The construction of the Campbell Center for the Performing Arts when they were in seventh grade firmly cemented their theater kid-dom. 
"I left Greenhills thinking 'I'm going to be an actor', but the realities of being an actor are quite harsh," said Huntoon.
They certainly did not think that they were going to be a teacher. 
" I fought becoming a teacher for a long time," said Huntoon.
Pursuing the goal of working in the entertainment industry they headed to Disney. 
"When I finished school I moved down to Florida to work at Disney World," said Huntoon, "I wanted to become a leader at Disney. Then about three years in I started realizing that ahh, 'I actually do want to be a teacher.'"
After moving back to Michigan they tested the waters in a familiar place.
 "I started working at Greenhills in the Forensics program just to sort of dip my toe back into interacting with young people and I realized that I did in fact want to become a teacher and teach middle school and high school students in particular," said Huntoon, "Originally, I was sure that I wanted to become a elementary school teacher. I am glad that I realized early on that that's not what I wanted to do."
After deciding to become a teacher they put in their applications at Greenhills and elsewhere. 
"I actually wasn't expecting to get a job at Greenhills because when I was applying there wasn't an English or theater opening, which was what I was qualified for," said Huntoon.
Fortunately they got the job. 
"I knew I would be happy working here, because in many ways it's a very different school than when I went here, but in many ways it's the same school," said Huntoon.
Stephanie Miller '86
"When I was [a student] here I really wanted to go into journalism," said Stephanie Miller '86, Associate Director of Annual Giving and Alumni Engagement.
Though Miller wanted to go into journalism, it was the yearbook that she chose to take a more active role in.
"I worked on the yearbook a lot during that time," said Miller. "I did some work on the newspaper, and I went on in my career to do a lot in communications."
After leaving Greenhills, Miller went on to Kenyon College where she majored in art history. 
"I worked in museums for a lot of my career, working in the communications departments of museums," said Miller 
However, throughout her career Miller maintained connections with the school. 
"I had kept in touch with Mr. Gargaro for many years. When Teresa Kasey retired and the job opened up, I decided to apply for it, because I knew the school and the office."
Even though it was many years since she was first at Greenhills, the school still felt the same.
"You know how sometimes you go to an old elementary school or something and it seems so much smaller?" said Miller. "Well, when I first walked in here as a staff member, and I had been here many times since I graduated, it never had that feeling to me. It always feels the same. We still don't have locks on the lockers, and we still have these incredible teachers who care so much about all of us, so in all those ways the values and the ethos of this place feel the same."
Rebecca Beery '11
"I definitely took every science course that I possibly could," said biology teacher Rebecca Beery '11, "Natural history was one of my favorite classes. As well as, a class that doesn't exist anymore, organism population and ecology with Tom Friedlander."
Beery always knew she would go into the field of science, but took a somewhat twisting path to get there. 
"I actually went and became a physical therapist before becoming a teacher back in the field of science in nature, so I kind of took a little turn and then came back to my roots. But I always knew that nature was going to be a part of my life."
However to her the two disciplines are not altogether different. 
"I underwent some PT as a teenager so I've always been interested in how the muscular system works and how bones work," said Beery. "I lived out on a farm when I was younger so I would always be finding dead animals and I would take them and take their bones and look at them, so I think that's kind of the connection between human physiology and natural history."
Beery never thought seriously about becoming a teacher in her high school years. 
"As a student I remember Tom Friedlander telling me that I would be a good teacher," said Beery. "That always stuck with me but this was something that I found pretty recently and I decided to pursue it and it's been great and I've loved it."
Although teaching as a profession didn't come to her until later in life, during her time as a physical therapist Beery found herself teaching all the time. 
"Every day that I was treating patients I was teaching them," said Beery, "I would teach them how to complete exercises. I would teach them patient education on their condition. They would ask me questions about how their bodies work and I would explain it to them, so I was constantly teaching my patients."
So the transition from physical therapy to being an educator at Greenhills has been a smooth one. 
"When I came back it almost felt like no time had passed in some way, because a lot of my teachers are still here," said Beery, "It's been like coming home to a family."
Nina Scheinberg '11
"By highschool I knew I kind of wanted to be a teacher," said math teacher Nina Scheinberg '11. "I was pretty sure I would be a Latin teacher, because I really loved Latin, but by the end of high school I got more involved in math tutoring, I gained more of an interest in the subject and realized that was probably more aligned with what I wanted to do."
Scheinberg credits having such amazing teachers for her interest in teaching. 
"When I look back at my 12th grade yearbook where we all wrote those sketches I gave a shout out to my teachers because they were really the reason why I wanted to come to school every day," said Scheinberg. 
After leaving Greenhills she studied engineering at the University of Michigan. 
"I remember, even as a freshman, people would ask me, 'What are you studying?' and I would say 'Engineering, but I want to be a teacher', so I knew all the way through undergrad that I was going to go to grad school, I was going  to do teaching, I wasn't going to be the typical engineer," said Scheinberg.
Before going to grad school she subbed here for a year. 
"I was here almost every day in almost every subject and alongside that I was doing research at U of M which I had been doing for a couple of years," said Scheinberg. "That year was really important  because I think I got more comfortable with seeing my teachers as my colleagues and not my elders."
After graduating from graduate school she applied for one of the math openings available and got the middle school one. "Even from high school I thought what a dream it would be to come back to Greenhills and teach here" said Scheinberg. "I didn't even toy with the idea of teaching somewhere else."
Kaitlin Sims '11
"Growing up I was very much into athletics, I didn't know what the role of 'wellness' meant, but being an athlete my entire life I was always drawn to those focuses," said wellness teacher Kaitlin Sims '11.
Seeing the impact of her teachers and coaches inspired her to try and do the same for other young people, albeit in a slightly different way. 
"My first choice of career wasn't teaching," said Sims, "I wanted to work in pediatrics, in younger adolescents, and then through trying to figure out what it was I wanted to do professionally I was always in the world of exercise physiology or sports and performance."
In college Sims originally majored in nursing with a minor in exercise physiology, but after realizing that she was more drawn to the latter, decided to flip-flop the two. 
"From that point moving forward I got to work with people of different ages, different lifestyles, different experiences," said Sims. "That really got me exposed to what health and wellness meant from a broad spectrum and through internships and research that I did I found that I really enjoyed working with young adolescents and helping them establish healthy habits from an early age."
After deciding that she wanted to be in the adolescent health space Sims went looking online for job opportunities. 
"This opportunity came up to coach and teach," said Sims. "It just seemed like something I wanted to absolutely dive into, especially being my old school. So it all came together at the right moment and I never could have imagined it coming together in like one nice package, but it did so that's kind of how I came to be here."
Paul Gargaro '79
Director of Advancement Paul Gargaro '83 entered the school in '79 as a freshman. During his time here, he played tennis and soccer.
"From Greenhills I went to Tufts, where I realized I was a much better student than I was, in part because Greenhills had
prepared me," said Gargaro.
Gargaro worked in the journalism industry before returning.
"After college, I was a newspaper reporter and editor at the local newspaper in Plymouth," said Gargaro.
In 2004, Gargaro became a part of the board of trustees, where he served for six years until he was offered his current job. When head of school Peter Fayroian offered him the job, he was hesitant to take it at first.
"It was a hard decision to come and work here, but I was an alum and I loved it, so I thought, 'what if I took this job and it ruins the great relationship I have with this school,'" said Gargaro.
Since taking the job, however, Gargaro has fallen in love with it.
"It's been the best job I've ever had, I've been here longer than any other job," said Gargaro.
Gregory Huntoon '07
"I tried to take advantage of all of the resources that the school had to offer when I was here," said math teacher Gregory Huntoon '07.
Huntoon took part in multiple sports and leadership positions.
"I played soccer, baseball, and did the musical for all four years," said Huntoon. "In my senior year, I was the student council
president."
Huntoon then attended Boston University after graduating.
"I got my undergraduate degree in Mathematics," said Huntoon. "After, I went to grad school for sports broadcasting journalism."
Huntoon always wanted to come back to Ann Arbor, as he had lots of friends and family in the area. After receiving a masters degree, he moved back.
"I taught here eight years ago as a long term sub for Mrs. Johnson and coached here for a year," said Huntoon.
He then taught in Birmingham and St. Louis for five years.
"I was glad to be able to come back and teach at Greenhills. I definitely wanted to be a part of the school."
Caitlin Smead '03
"I was just an average student at Greenhills but really involved in a lot of things," said director of the learning center Caitlin Smead '03. "My favorite activity was running a group called peer counseling, which has now evolved into Peer2peer."
Smead was always told to pursue a career in education by her mentors, but she went into college without considering an
education degree.
"I took a bunch of classes and tried new internships," said Smead. "Ultimately, I realized social work and public policy aren't for me. It was late in college when I realized that I belonged in a school."
One of Smead's mentors later reached out and informed her of a learning center job opening at the school, and Smead applied right away. The return to Greenhills has felt natural for Smead.
"I felt at ease right away," said Smead. "Greenhills does a great job of not making you feel like a kid and they treat you with so much dignity right from the start. This has become my dream job ever since."
Harry Berkowitz '07
"I was a student who was very engaged in class discussions, but a little mischievous at times," said history teacher Harry Berkowitz '07.
Berkowitz was an active student here.
"I played soccer, did forensics, ran track, and played lacrosse," said Berkowitz.
Berkowitz left the school with no intentions of ever com-
ing back.
"I attended Case Western Reserve University. During my first two years there, I did chemical engineering with the goal of
becoming a doctor," said Berkowitz.
After his second year, Berkowitz took a gap semester and returned to Ann Arbor, where he became the assistant coach for
the school's boys soccer team.
"I had a lot of fun and really enjoyed the experience," said Berkowitz.
Berkowitz went back to Case Western and later taught English abroad for a few years.
"My wife is currently in med school at Michigan, so I was very lucky that Greenhills was actually hiring when I was coming back to Ann Arbor," said Berkowirtz.