Art, a helping hand
Senior showcases artwork at local cafe, work available for sale
Some people babysit to earn some extra cash. Others mow lawns. How about selling your own artwork? For Annie Stone '23, a conceptual photographer, that's just what she plans to do. Her portfolio will be exhibited at Cahoots Cafe located in downtown Ann Arbor for the month of May. She is the first Greenhills student in recent years to have her artwork shown at Cahoots. 
"My entire portfolio will be shown and available to be sold," said Stone. "Anyone who walks in will see it."
This is a big step for Stone to get more local attention and to sell her artwork. It was made possible by art teacher Elizabeth Wilson-Hill.
"I was looking for a springboard place to show my own work as I had just moved into Ann Arbor," said Wilson-Hill. "When I saw this place I thought it could be really nice for Annie as well as we had spoken the week before about how she didn't have a portfolio she made last year printed yet and I wanted to get her some exposure."
Stone is in good hands to help present her portfolio. Wilson-Hill is no stranger to art exhibitions and is a painter herself.
"I have tons of experience with helping artists gain publicity and put on a show," said Wilson-Hill. "I have exhibited a lot of my own work all around the world. I have also helped curate a bunch of different art shows for artists as well. Even in Dallas where I just moved from, I was in charge of a whole arts district where we did group shows and had studios."
Although Wilson-Hill is helping Stone launch her portfolio, Stone's portfolio is a product of lessons learned from former art teacher Rob Kinnard. 
Stone's passion for photography sparked freshman year, when she first entered Kinnard's art photo elective. On a whim, the class struck a chord within her, and she ended up taking the class seven more times. 
"Once Annie started  she stayed all the way through," said Kinnard. "She kept getting more and more involved in what it was that she was trying to say, recalling enjoying that process of exploring herself through art.
The approach to photography that Kinnard taught and adopted was based on art theory, ensuring that each artwork communicates an idea.
 "It came to pass that I had to develop a new curriculum for Annie because no one had ever taken photography at that level," said Kinnard. "My advanced level two classes were already college-level, and she was well beyond that."
Stone was always the first person to try new gadgets and pieces of equipment. 
"Annie was up for trying every single thing," said Kinnard, "The more she tried, the more connected she felt."
Stone's constant experimentation has led to her portfolio to be a very intimate exhibition of human emotions.
"Much of what Annie does is very personal," said Kinnard. "Even though she doesn't try to explain what exactly is going on, any view could see there is a lot going on. Those are emotions that we try to hide. Annie's work is peeling off the mask we wear in our daily lives."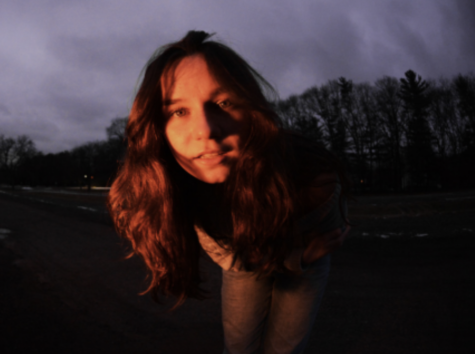 Titled Mourning the Living, Stone's portfolio depicts the cyclical cycle of depression.
 "It was the hardest work I've ever done and I have Rob Kinnard to thank. He showed me how to turn my emotions into ideas," said Stone.
Kinnard helped Annie develop her creative pathway and ways to embed her experiences and struggles into artistic expression.
"She was always very personal with her art," said Kinnard. "In many ways, she was sharing her experience and her feelings in her artwork, readily and almost exclusively all the time. She felt very comfortable doing that."
Stone has gone through a lot of what the portfolio depicts, but her work also illustrates a diverse amount of experiences that many people have. 
"I have been working on this the past two years," said Stone. " I was looking through all of my works and realized they were all melancholic. A lot of the time, I would just accidentally reflect what's going on with me or the people that I am around. Once I noticed that, I dove deeper into it and tried to explore it further and try new ways of expressing that."
Stone initially drew inspiration from a family member who was going through what the portfolio conveys. She turns emotions into ideas and shows viewers raw emotions through symbolism.
"The images themselves are quite dark and relatable to the teenage experience," said Wilson-Hill. "Her work is a way to express a more scary side of the human experience – a voice for teenagers and just anyone going through a lot of volatile changes." 
Stone's work not only resonates with people who are undergoing major life changes, it also consistently inspires and affects others. 
"Her enthusiasm, her questioning of the world and herself were contagious," said Kinnard. "Since we are both doing theory-based art, in many respects, we're very similar in the ways we look at things. We like to grab them and hold them tight to see what might come, how our artwork might evolve."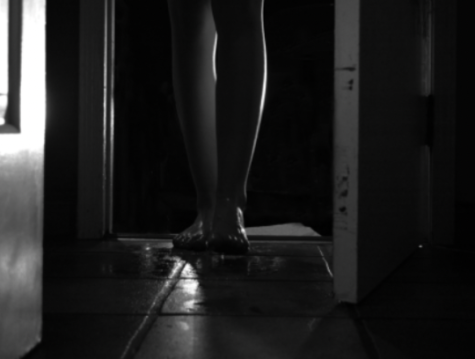 Kinnaird's class had a profound effect on Stone.
"Photography was the vocabulary I was born to speak," said Stone. "Since learning about photography, I find that it is the only way that I feel like I was meant to express myself. It's the most beautiful expression that a person can have and release to the world." 
Stone's style of  conceptual photography means she takes photos based on thoughts and narratives. Unlike portrait, landscape, or sports photographers, she adopts a more artistic form. 
"I try to make my views think and make the audience see the reflection of emotion," said Stone. 
And she has done so successfully. Stone recently received an honorable mention and gold key from the Scholastic Art & Writing Awards context – the country's longest-running recognition program. These achievements have all garnered more publicity for Stone's exhibition this May and will help future students.
"After Annie's success, more students will know about exhibiting their art and create more opportunities for kids wanting to do this," said Wilson-Hill.